Join our team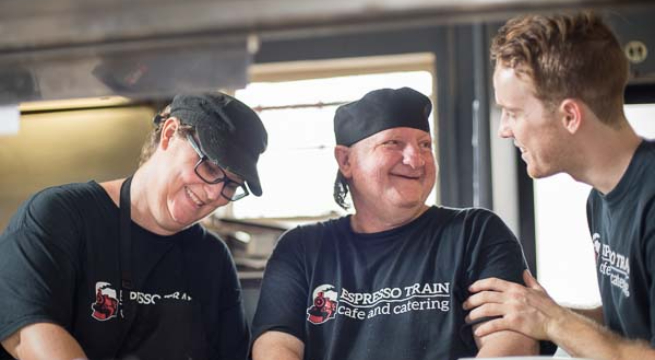 We're always expanding and getting busier so we're often on the lookout for enthusiastic team players who have kind hearts and are flexible (by flexible I don't mean you can touch your toes). You will likely work across all businesses doing everything to keep it interesting like barista-ing and baking, catering and cleaning, dishes and deliveries. [Read: Flexible]
Please take a look at our website and socials and drop us a line if you're keen. We expect you to be reliable and think for yourself with the team in mind. In return we offer a friendly, supportive workplace, on the job training and award wage (Restaurant Industry Award 2010) in accordance with your experience and effort. Young people with limited experience encouraged to apply. Hospitality all-rounders with two or more years experience will also be highly regarded.
Our workers with disabilities come to us through the Community Living Association. Many of the team have been with us for 10 years or more as we provide a safe, supportive workspace. We are always aspiring to be busier and create more work hours for our team. By spending your catering dollars with us or visiting the cafe for brunch you are helping us to employ people who would otherwise have difficulty finding and/or keeping a job. Thank you!
Please email your resume and a cover letter telling us about you, your availability and goals to "catering at espressotrain.com.au" or drop in to 46 Station St, Nundah to meet the team.
For more information call Kirsty or Sam in the café on 07 3260 7414