Cafe info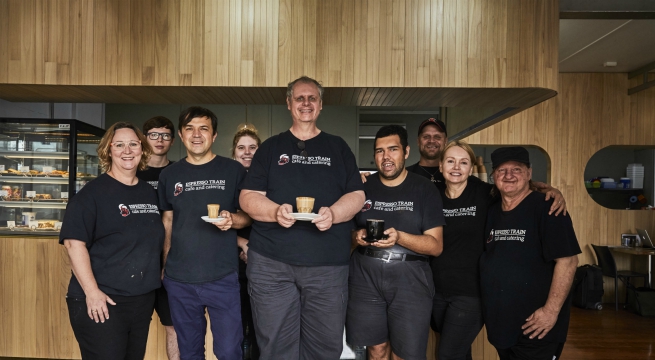 Whether you swing by for a quick coffee and treat, drop in for lunch or linger over Sunday brunch in our bright and breezy courtyard, the café will provide a welcoming and happy moment in your day…and really good food and coffee.
The courtyard is cool in summer and sun kissed on winter mornings – plus we have heaters to keep you comfortable! There's also footpath dining and tables inside where you can be part of the hustle and bustle of our open-plan kitchen.
About our menu
You can expect a wholesome range of breakfast, brunch and lunch items. You'll find a mouth-watering range of your favourite sweet treats and savoury bakes, all handmade in-house with real ingredients. We don't deep fry anything so you can be assured your choices are good for you and good for your family.
Flexible menu
Gluten free, vegan and vegetarian dishes always feature on our menu and in our daily specials, and we're really flexible so please don't hesitate to ask for substitutions or alterations. We'll always do what we can to make your meal just the way you like it.
We aim to please
We'll work hard to ensure you love your meal and are delighted with our service – that's the kind of crew we are – because when you spend with us, a good feed, does a great deed, and we'd love you to become a regular!
Our coffee
We joined the Wolff Pack in 2020 and are getting rave reviews about Big Dog pouring through our La Marzocco GB5. 
Wolff Coffee Roasters are dedicated to delivering exceptional coffee experiences by sharing their knowledge of quality and flavour through education and innovation. Wolff's pursuit of excellence in all that they do, is exhibited through beautifully hand crafted coffee and an unbeatable customer experience.
Designed for superior temperature control, the La Marzocco gb5 combines powerful technological advancements with classic design and unmatched temperature stability. We're in love. Can you tell?
Convenience: contactless | take away | relax with us
Call or text us on 0403 900 550 to order contactless take away, pull up in the loading zone out front and give us a toot. We'll bring it out to the car where you can pay by EFTPOS.  Zoom! Check out what's on our seasonal menu.