Good Food Trailer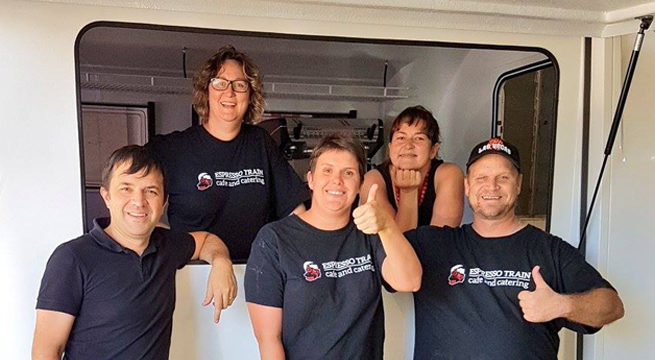 Espresso Train has joined Brisbane's vibrant food truck scene with our 'Good Food Trailer' where, a good feed does a good deed. We're really excited to not only have expanded our business, but also to increase opportunities for disadvantaged members of our community.
The crowd-funded food trailer boosts the work of the café in three main ways: through offering refugees and asylum seekers the use of the trailer to trial their own food businesses; through providing a training space to people with disabilities; and by allowing the café to showcase our wonderful food and coffee at festivals and events including weddings.
The 'Good Food Trailer' is staffed by disadvantaged members of our community, and has a rotating menu of great food options. These include many traditional foods by people we work with from the new Aussie community, such as Syrian, Persian and Sri Lankan dishes.
The Good Food Trailer is fresh, clean and white, with minimal black and white signage. We have a variety of colourful bunting and decorations so are happy to fit in with the theme of your event. Bollywood theme? Hessian and lace wedding? We've got you covered.
Join our mailing list or follow us on Facebook to see where we will pop up next!
Visit The Good Food Project website to find out more. To book The Good Food Trailer for your next event call or email Jessica Black on 0403 233 398 goodfeed@espressotrain.com.au