Cafe info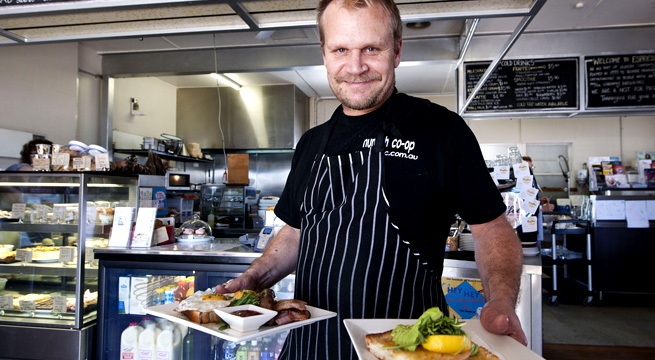 Whether you swing by for a quick coffee and treat, drop in for lunch or linger over Sunday brunch in our bright and breezy courtyard, the café will provide a welcoming and happy moment in your day…and really good food and coffee.
The courtyard is cool in summer and sun kissed on winter mornings – plus we have nanna rugs and heaters to keep you comfortable! There's also footpath dining and tables inside where you can be part of the hustle and bustle of our open-plan kitchen. Kids are easily entertained in our corner full of toys, books and colouring pencils.
About our menu
Variety is the spice of life, so we change our menu twice a year to serve up a delicious range of breakfast, brunch and lunch items. In our cabinet, you'll find a mouth-watering range of your favourite sweet treats and bakes, all handmade with real ingredients.
Flexible menu
Gluten free, vegan and vegetarian dishes always feature on our menu and in our daily specials, and we're really flexible so please don't hesitate to ask for substitutions or alterations. We'll always do what we can to make your meal just the way you like it.
Locally sourced ingredients
We source as much of our produce as we can locally and use free-range eggs and chickens, and cured ham from Gerns Butcher, Geebung.
We aim to please
We'll work hard to ensure you love your meal and leave delighted with our service – that's the kind of crew we are – because in our café, a good feed, does a great deed, and we'd love you to become a regular!
Our coffee
Aromas has been specialising in small batch roasting of specialty grade roasted coffee beans in Brisbane since 1982, and we're proud to brew their Premium Organic Beans ground fresh to order in our Mazzer and perfectly extracted with our Nuova Simonelli espresso machine.
Aromas' 100% Certified Organic coffee has been sourced from the finest Central American and PNG highlands Arabica plantations. Caramel roasted, it has good acidity with medium body and a light sweet finish.
Make a booking at the café or take a look at our delicious café menu.